Time Bandit: UX & Mobile UI
A mobile gaming app made for the Dina Wind Power of Art Hackathon at the Philadelphia Museum of Art, 2017 Sponsored by the Dina Wind Foundation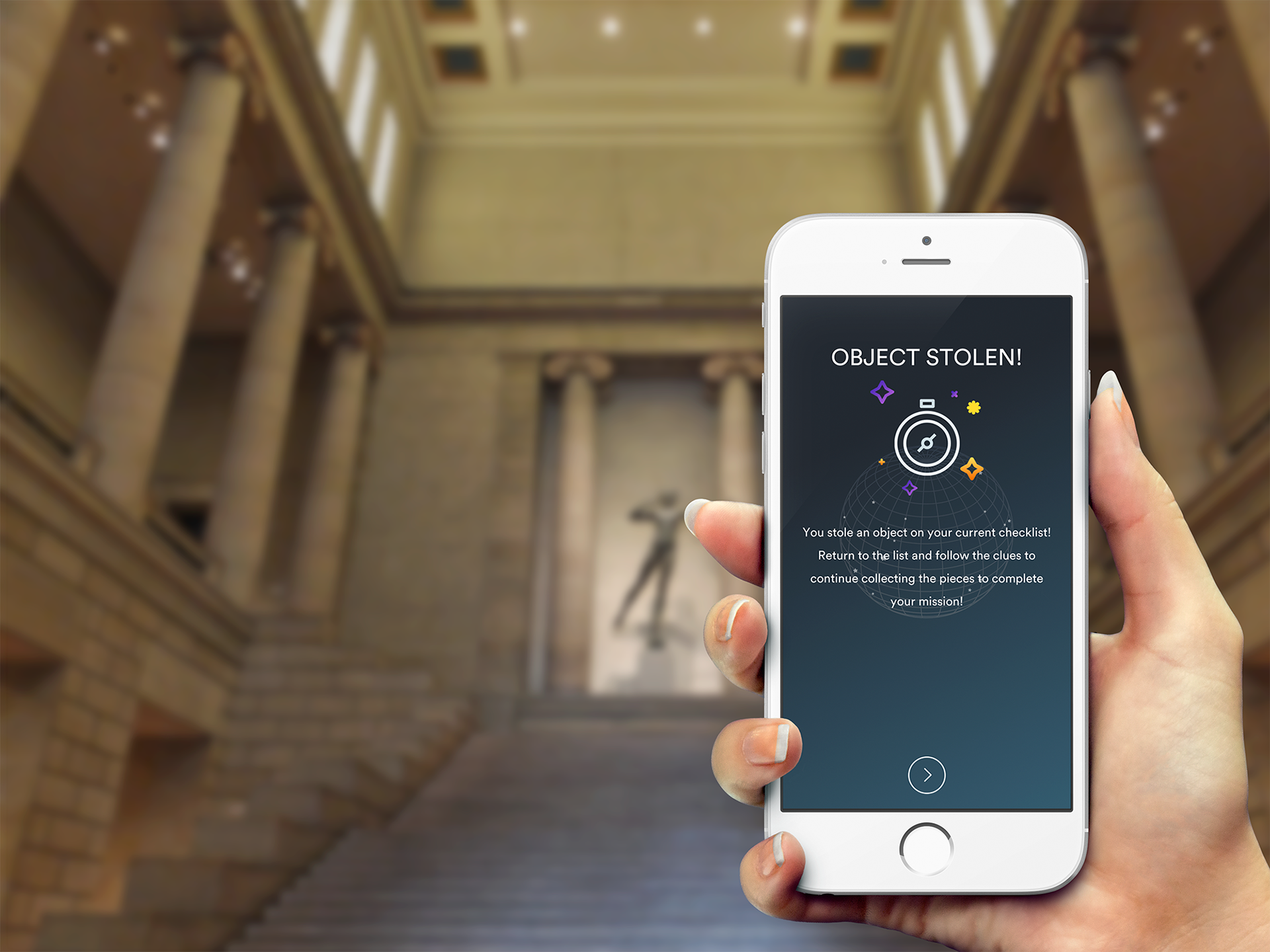 Create a digital game inspired by the Museum. 
Innovation
Does the game use technology and the Museum's collection in a creative way? Does it distinguish itself from existing digital game experiences?
Is the game functional? Is the technology scalable? Does the technology have dependencies? How sustainable is it?
Engagement


Is the game experience playable, engaging, and motivating? Does it create new ways to encourage Museum visitors to explore the galleries and the collection? Does the game connect players with each other and with the collection?
DISCOVERY
After learning the Museum's goals and criteria, I conducted a user survey to collect data about visitor behavior and attitudes towards the Museum, as well as familiarity and usage with mobile devices, particularly games. While a large number of those surveyed reported interest in a Museum game, others expressed skepticism of paying attention to a screen while visiting the museum to view art. A surprising number of participants had never visited but said they would very much like to.

As a whole, survey answers supported the Museum's original mission. Respondents shared a desire for guidance through a Museum visit, but with more independence than a docent-led tour allows.

User personas were created based on the survey answers. The collected data validated or invalidated needs and helped our team make decisions about our game's core features.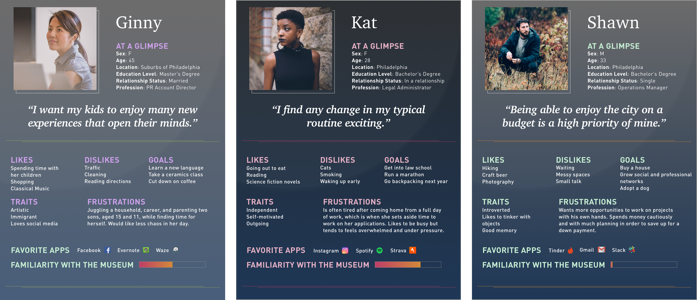 Next, I started mapping out user flows. The most practical benefit it held for my team was that it kept all of us organized and on the same page, since we were mostly dispersed while working on our contributions to the game. The user flow held all of the different screens that needed to be created. It was also representative of the steps users will take and the information they will see on each screen. Breaking down user steps and actions helped us refine and adjust as necessary. 

(Had we had more time, I would have loved to have tested the user flows on actual people to get feedback for us to incorporate as well.)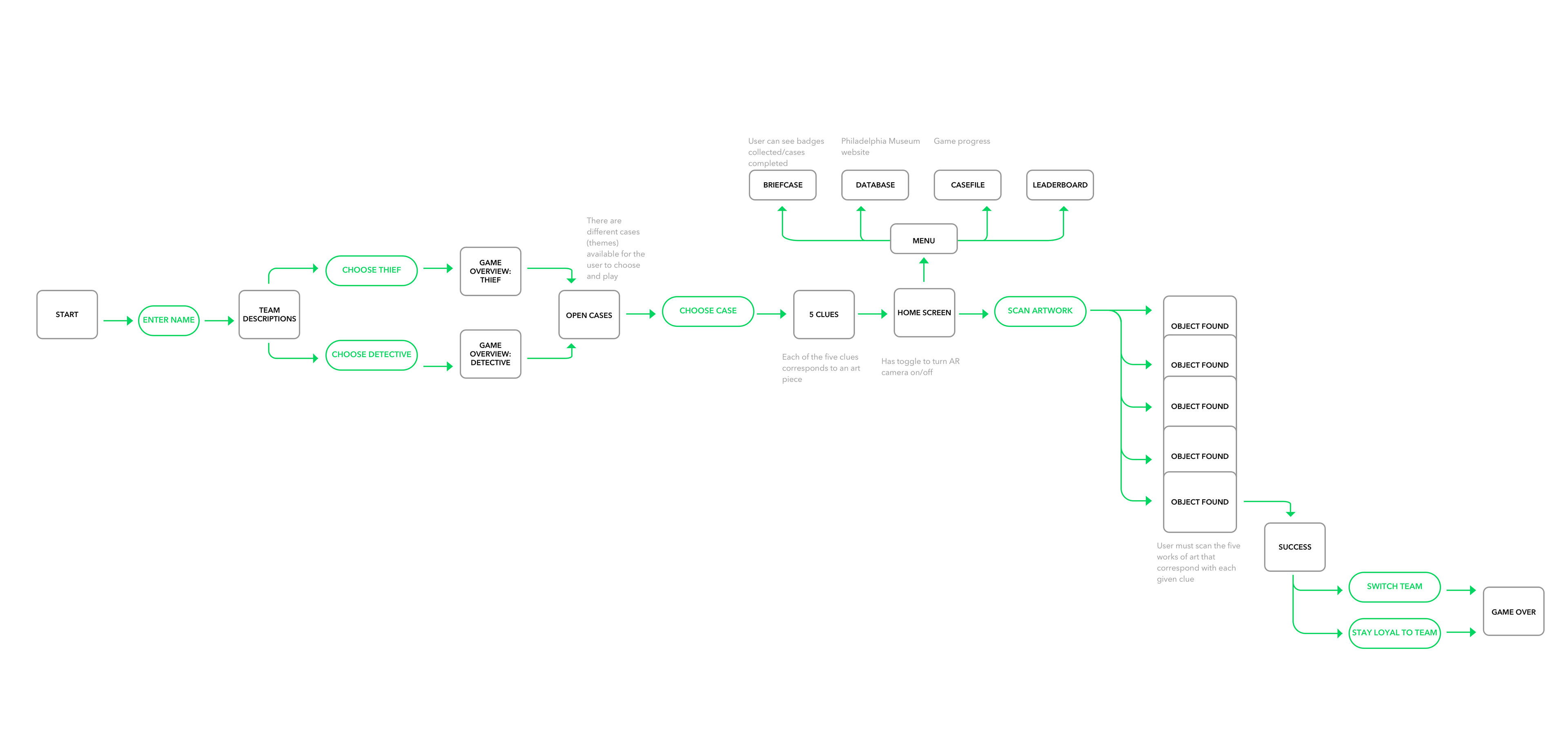 We also took the time to study the Philadelphia Museum's current game, A is for Art with a Museum staffer, who generously walked us through the galleries as we used it and asked questions. It was important for us to familiarize ourselves with what already exists, and to learn its successes and challenges. 
It was during this experience that we realized that app we were conceiving was quite close to A is for Art Museum, so we took a few steps back to revise our gameplay.
Paper prototypes were created during rapid brainstorming sessions to keep track of initial ideas regarding game features and layout. The objective was to create an intuitive, engaging design that was visually compelling to multiple audiences. 
Afterward, I created digital wireframes using Sketch and Invision.
Time Bandit is built in Unity, which is a platform I was completely unfamiliar with prior to this experience. I worked with our team's developer to discuss what features and functionalities were possible, and sent him the visual assets to import into our game files.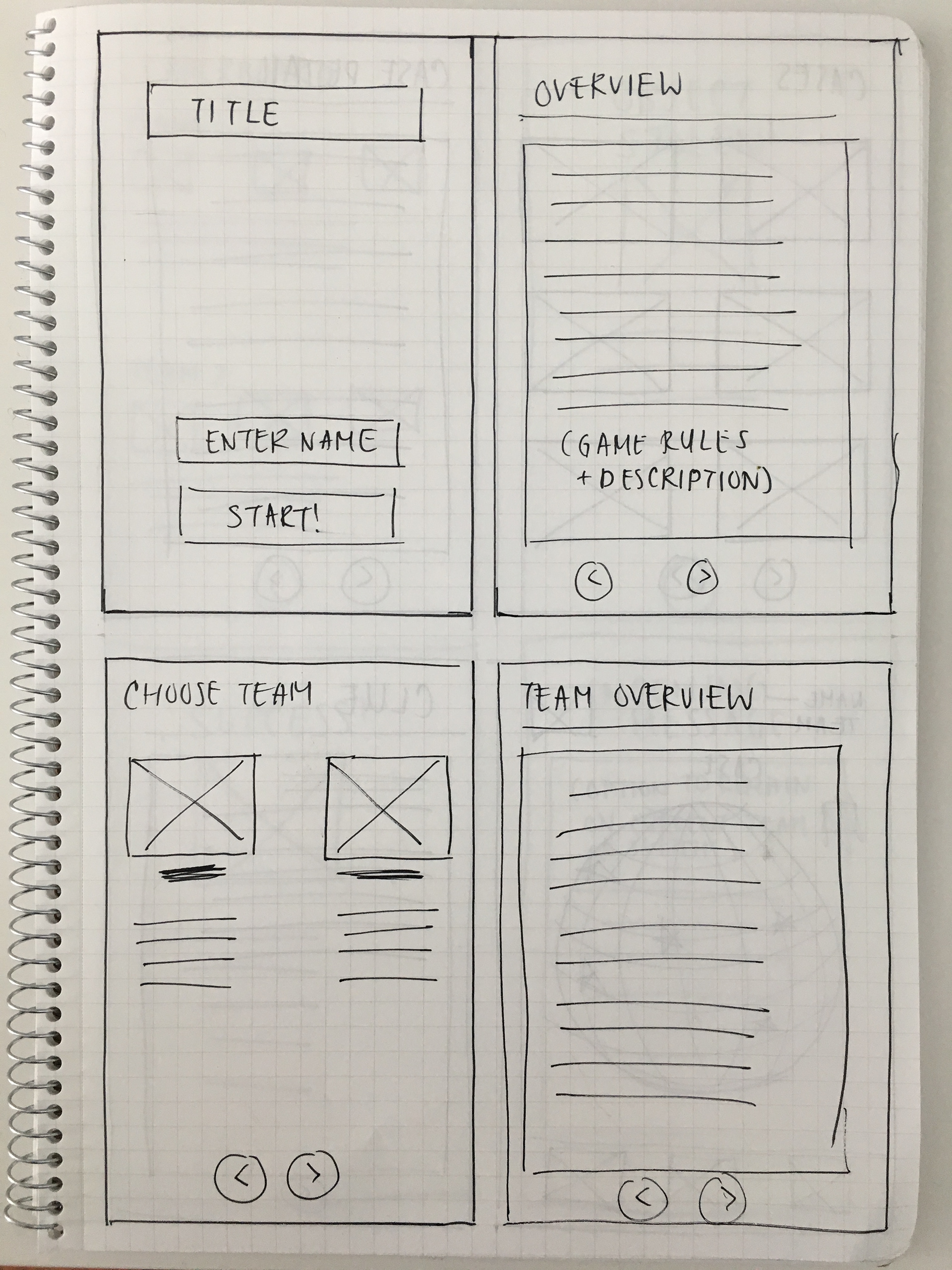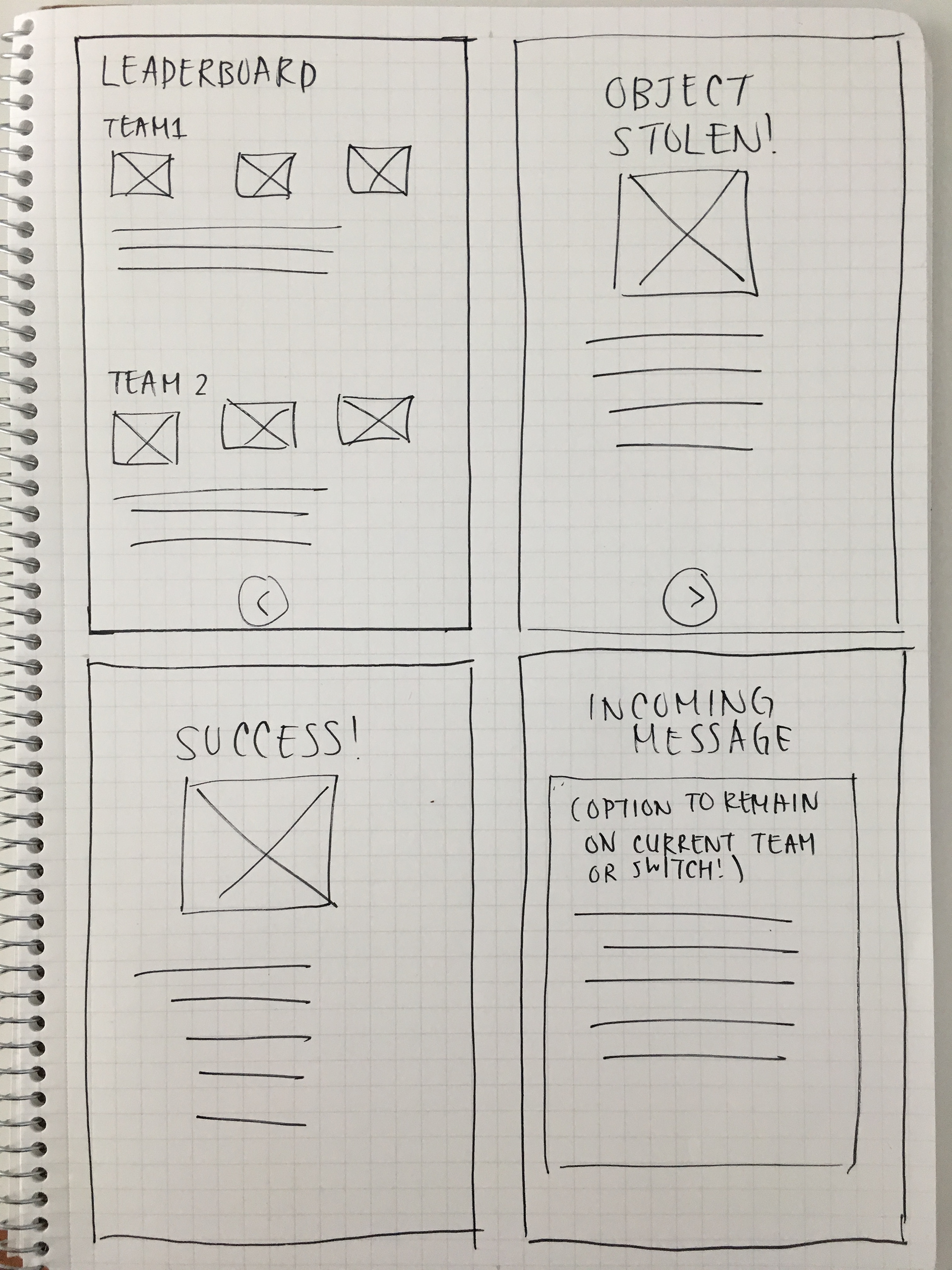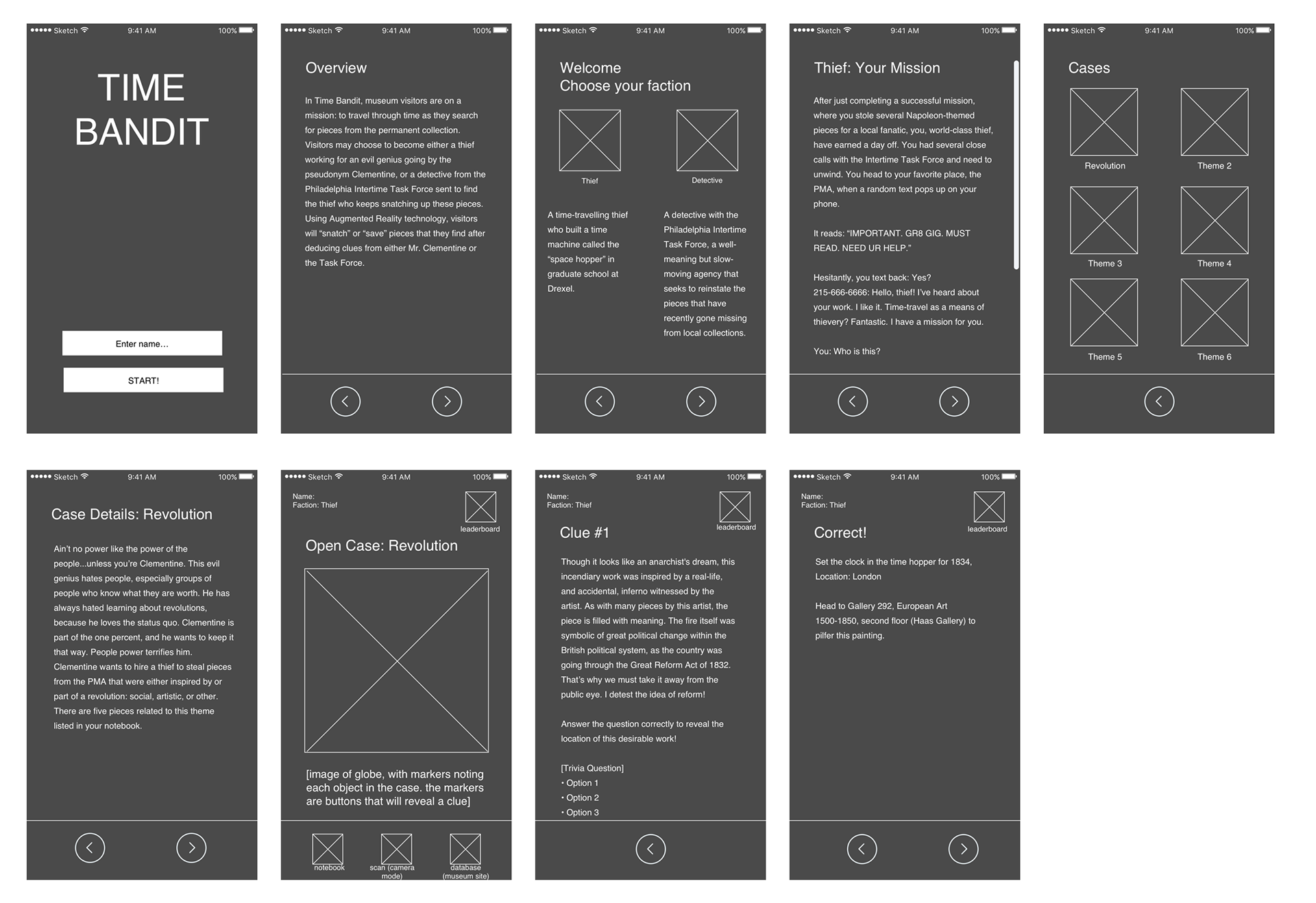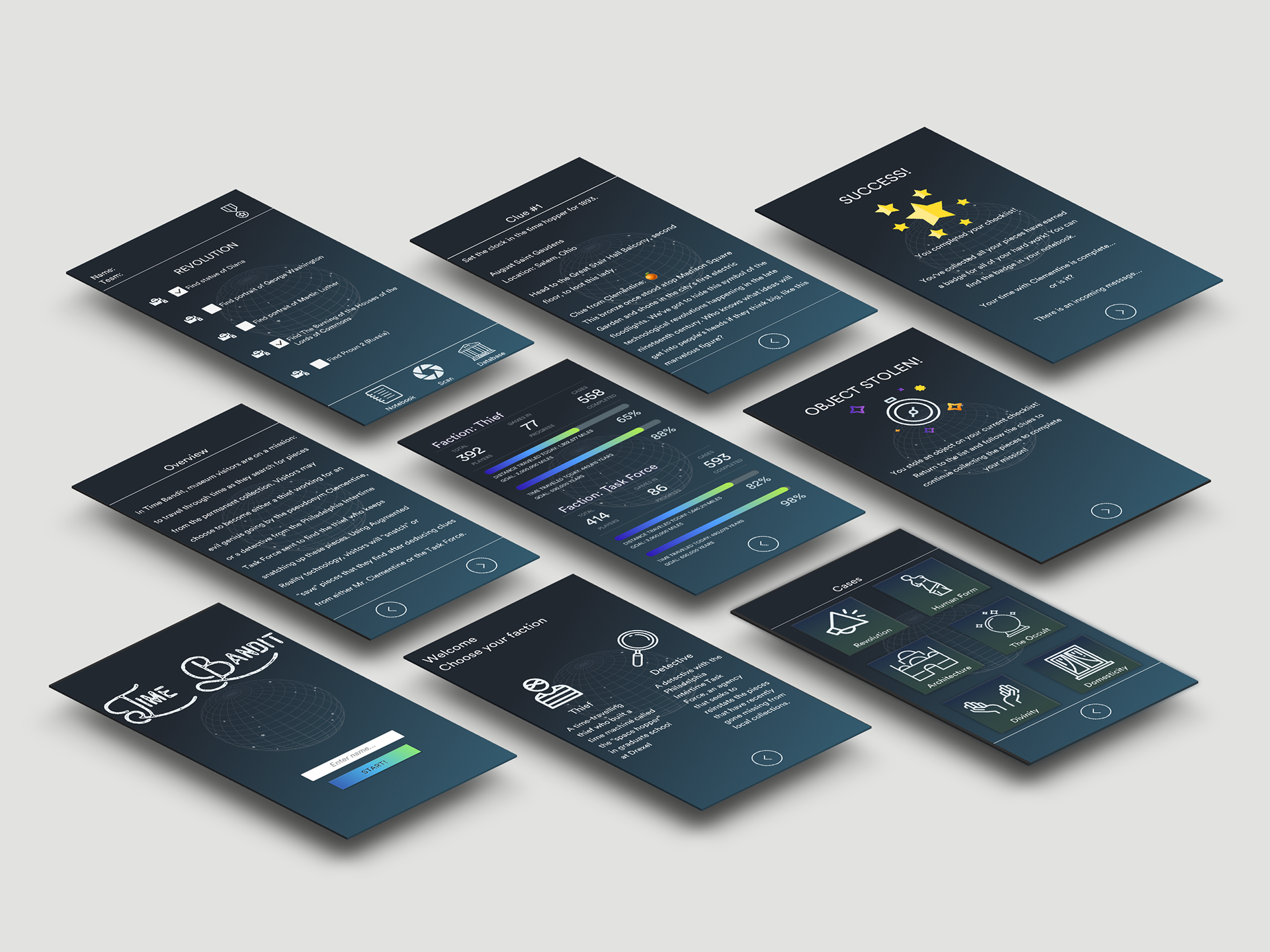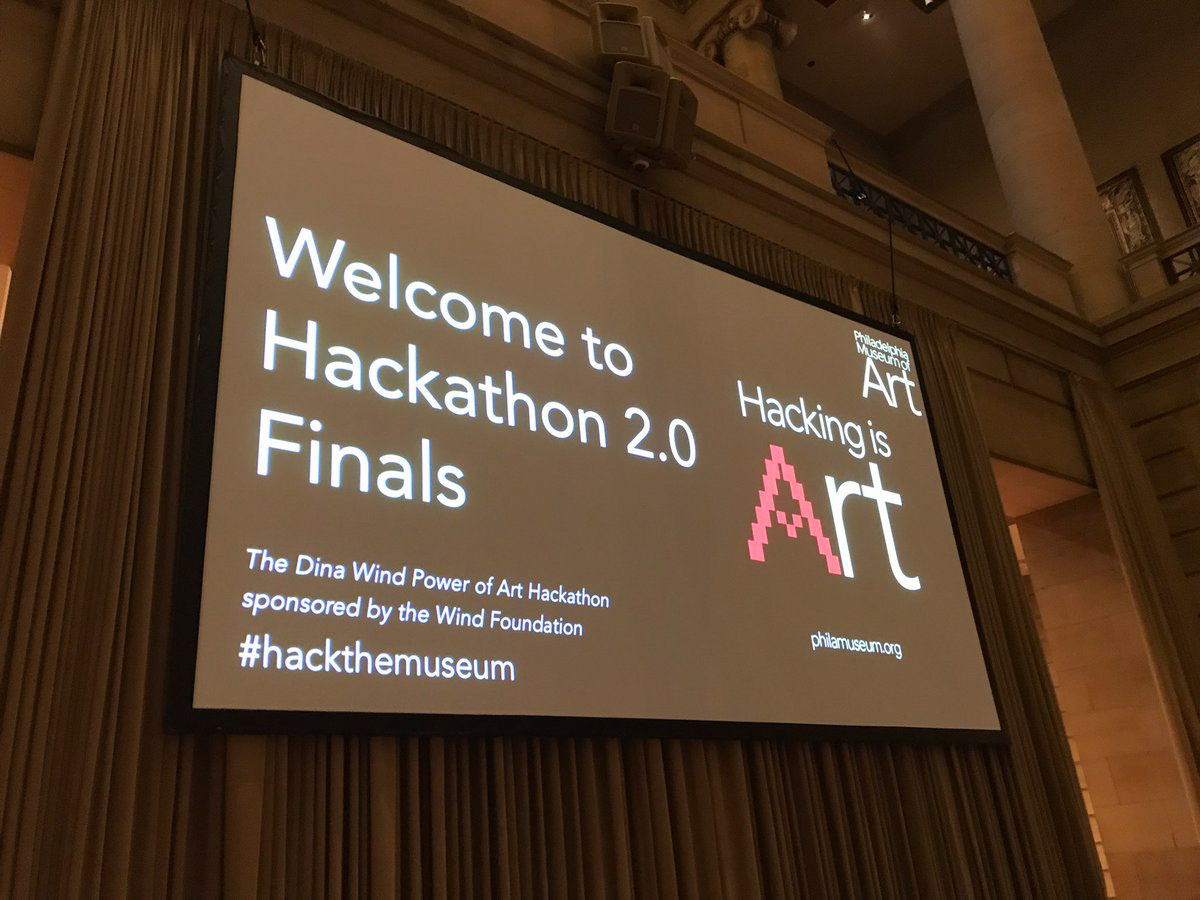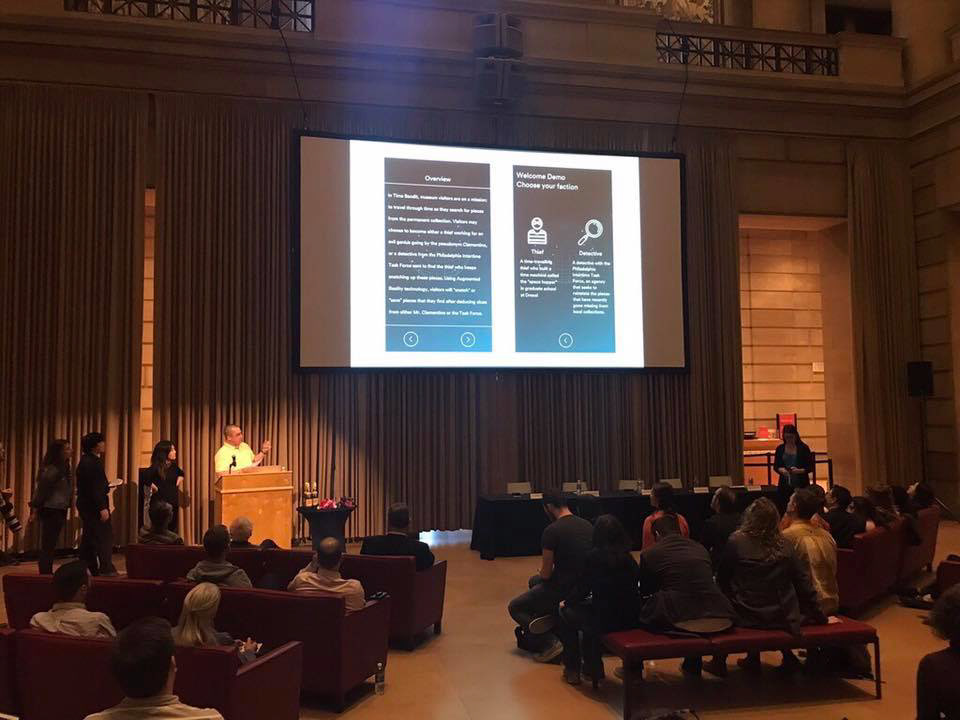 Work on Time Bandit is continuing even after the hackathon, so that our team can expand upon it in ways that our earlier hackathon timeline didn't allow. I'll be designing custom icons and cleaning up the interface a little bit. Come back to see the revisions!